Appointment Scheduling
Smart-eHealth is equipped with built-in features that allow your clinic to manage appointments with ease. Receptionists will find the appointment booking system very intuitive.
User friendly calendar
Our calendar allows you to flexibly view past and future appointments. If you have many appointments, you can switch between day/week/month viewing.
If you have multiple clinics, you can filter by location.
Appointments can be moved around (rescheduled) using a drag and drop function.
Bright colours allow you to distinguish between appointment types.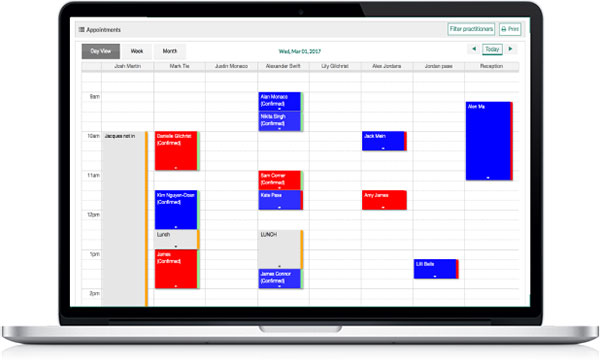 Schedule appointments
Smart-eHealth makes it easy for you to create appointments, in an allocated time slot, with a single click.
You can search for an existing patient quickly, or add a new patient into the system when you are scheduling an initial appointment.
You can create casual appointments for clinical staff.
There are settings that synchronise scheduled leave and lunchbreaks across the calendar.
There are time settings within the calendar that can predefine the duration of appointments.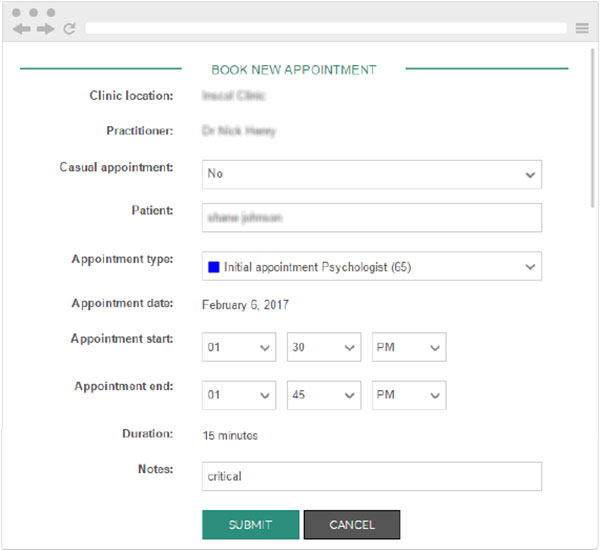 Appointments alerts
There is no need to ring your patients to remind them of their appointment. Their contact details can be stored in the system so that an automated alert is sent to their device upon booking. Alerts can be an email, SMS, or both.
Alerts can be sent two days before the appointment, containing the date and time.